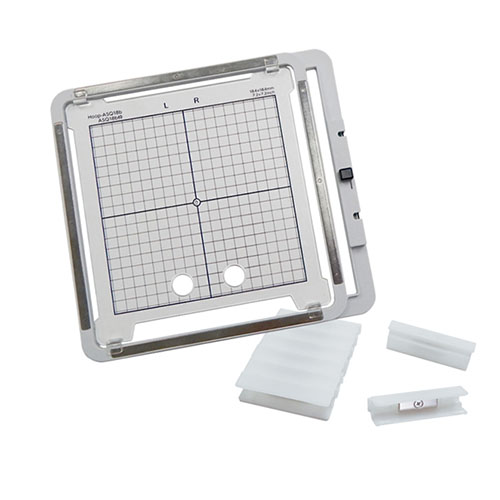 Janome Acufil Quilting Kit ASQ18b for the Janome MC500e
With the Amazing Janome Acufil Quilting Kit, you can turn your beautiful Janome MC500e embroidery machine into a longarm quilter!
This amazing Kit has been introduced especially for all existing MC500e customers. This Kit allows you to perfectly stipple your quilts or quilting projects giving you that professional quilted finish. Get the professional finish by simply pressing the button and letting your Memory Craft 500e do all the work for you.
The Janome AcuFil™ ASQ18b Quilting Kit Includes:
– ASQ18b Hoop – Magnetic clamp hoop 184mm x 184mm OR 7.2 inches square. Great for securing multiple quilt layers for embroidery.
– Janome AcuFil™ Quilting Tool Software: includes a special quilt calculator, which allows you to quickly design your quilt layout for any sized quilt. Choose from 97 built-in embroidery quilting designs, including stippling designs, feathers, free motion motifs, stippling quilting fills.
– Janome AcuFil™ Design Collection with 91 embroidery quilting designs: stippling Designs; Feathers; Free motion style motifs; &amp Stipple Quilting fills.
– Hard Plastic Hoop Template  
– 8 Acufil™ Magnetic Clamps
– Printable templates for precise positioning
– AcuFil™ Tool Software CD – Calculator functions for easy all-over quilting design layout on any size quilt
– AcuFil™ Tool Instructional CD (which includes Instruction book)
Custom Content & In-house Photography designed by and is the intellectual Property of Janome Sewing centre.