Janome Wide Tape Binder Foot and Base Plate Set
NOTE: This is for the Janome CoverPro 1000CP, 1000CPX, and 2000CPX.
The tape binder is used for finishing and covering the raw edges of stretch fabrics. Using this binder attachment, you are able to use any fabric as a tape to use around the raw edges of your work, creating beautifully finished necks and arm holes for clothes and magnificent quilts edges. With the included base plate, the Tape Binder Attachment can be used with the Janome CoverPro CP & CPX.
Set Includes:
42mm Binder Attachment

Short Presser Foot For CoverPro

Set Screw 

Base Plate

2 x Thumb Screw
This 42mm Tape Binding Attachment produces 12mm finished binding.
Instructions:
This Set includes a specialty base plate that sits in the forward slots found on your Coverstitch Machine.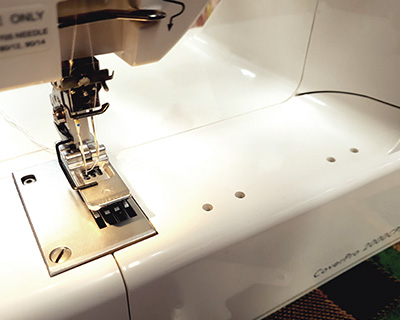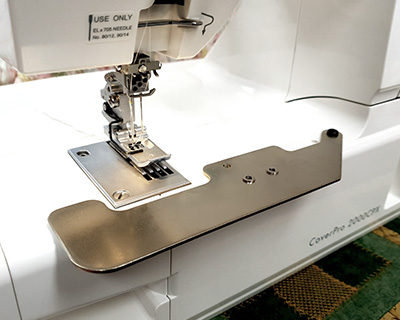 Using the Set Screw Provided, line up the base plate in the front slot and screw in the far right opening to secure in place.
Replace the Standard Presser Foot for the Short Foot provided. Unfold the wire 'fabric feeding arm' to the right of the binder attachment and secure to the base plate using the thumb screws provided.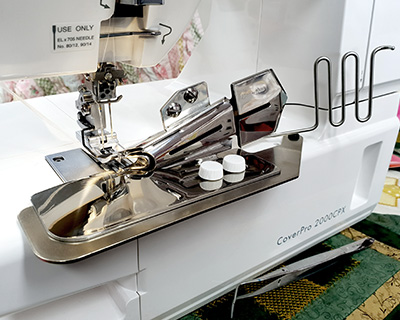 The position of the binder attachment can be manoeuvred both by the thumb screws on the base plate or on the upper section of the binder. 
Custom Content & In-house Photography designed by and is the intellectual Property of Janome Sewing centre.