Janome Clear View Cover Stitch Foot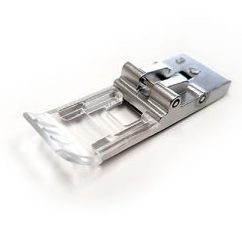 The Janome Clear View Foot gives you a better view of what you are sewing. It is especially useful for decorative topstitching and can also be used with other attachments such as the hemming guide to match up the end of a hem seam with its start for a beautiful finish. Handy markings on the front edge of the foot correspond with needles for perfect stitch alignment.
HOW DO I USE THE JANOME CLEAR VIEW COVER STITCH FOOT?
The markings (A, B, and C) on the tip of foot indicates the needle positions that can be used for guiding the fabric.

Cover Stitch Sewing

Fold the edge of the fabric to the wrong side and press. Draw a line (D) with tailor's chalk on the right side of the fabric to mark the fabric edge. Place the fabric so that the left needle drops just to the left of of the marked line (E). Lower the presser foot. Sew carefully along the marked line. When finished sewing, raise the presser foot and remove the fabric to the rear. Draw the needle thread to the wrong side of the fabric and knot them together.

Free Arm Sewing

Remove the extension table. Stitch the hem in the manner as above. Continue to sew over the stitches 2″ (4 to 5cm) beyond the starting point. Trim the threads at the beginning and the end.
The Janome Clear View Cover Stitch Foot can be used in conjunction with the Elastic Gathering Attachments.
NOTE: This is for the Janome CoverPro 1000CP, 1000CPX, and 2000CPX only.
Custom Content & In-house Photography designed by and is the intellectual Property of Janome Sewing centre.