Janome Concealed Zipper Foot
for 7mm Sewing Machine Models
Part Number: 200 333 001
---
Good quality ready to wear garments will often have an invisible zip fitted. These zippers are often neglected by the home dressmaker, which is a pity because with the Concealed Zipper Foot, they can ensure success every time. Invisible zips are suitable for all fabrics from fine silk jersey through to suit weight wools and tweeds. The key is to get the needle as close to the fastener as possible, which this foot accomplishes by slightly unrolling the zipper just before the needle. Once fitted, a well sewn invisible zipper will merely look like part of the seam.
The Janome Concealed Zipper Foot fits the following sewing machines:
Janome 5mm: 1008, FD206, FD216, RE1306, RE1706, 1008, JR1012, JP660, JP720, JP760, SP1221, Sewist 509, Sewist 521, Sewist 709, Sewist 721, DC1030, DC2030
Janome 7mm: 6019QC, 6025QC, 6260QC, CS995, DC2050, DC2150, DC2101, DC2101LE, DC2200, DC3050, DC3100, DC3200, DC4030, DC6030, DC6050, DC6100, DC7060, DC7100, DM7200, 2160DC, 3160QDC, 4120QDC, 4300QDC, MC3000, MC3500, MC4000, MC4800, MC4800QC, MC4900QC, MC5200, MC5500, MC6000, MC6500P, MC6600P, MC7700, MS5027LE, MW3018 (My Excel 18W), MW3018LE, Sewist 625E, 4618, 4618QC, 5018, 5024, 5027, 5124, ME4014, ME4015, ME4018, ME4123, MS2028, MS2522 , MX3123, SD2014, SR2000, SS2015, SW2018, 995CS, Skyline S3
Elna 5mm: EL1000, EL2000, Sewfun, Elina 21, Explore 240
Elna 7mm: 3230, 320, ELJ3210 (Easy Jeans), Lotus (Computerised), 520, 540, 660, 720, 740, 8600, 9600
---
How do I use the Janome Concealed Zipper foot:
---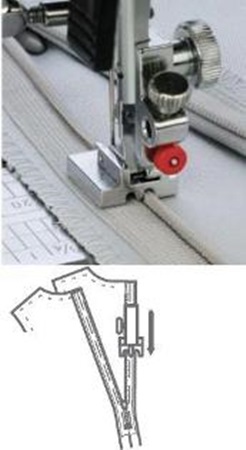 Sewing Machine settings:
Stitch: Straight stitch (Center needle position)
Thread tension: "Auto" or 3 – 5
Stitch length: 1.5 – 2
Stitch width: 0
Method:
Baste along the zipper opening. Prepare a concealed zipper 2 cm longer than the actual opening size.
Baste the zipper tape on the garment before machine stitching.
Pull out the center basting threads and open the concealed zipper. Sew the right and left sides of the zipper to the ends of the zipper opening by using the concealed zipper foot.
Custom Content & In-house Photography designed by and is the intellectual Property of Janome Sewing centre.