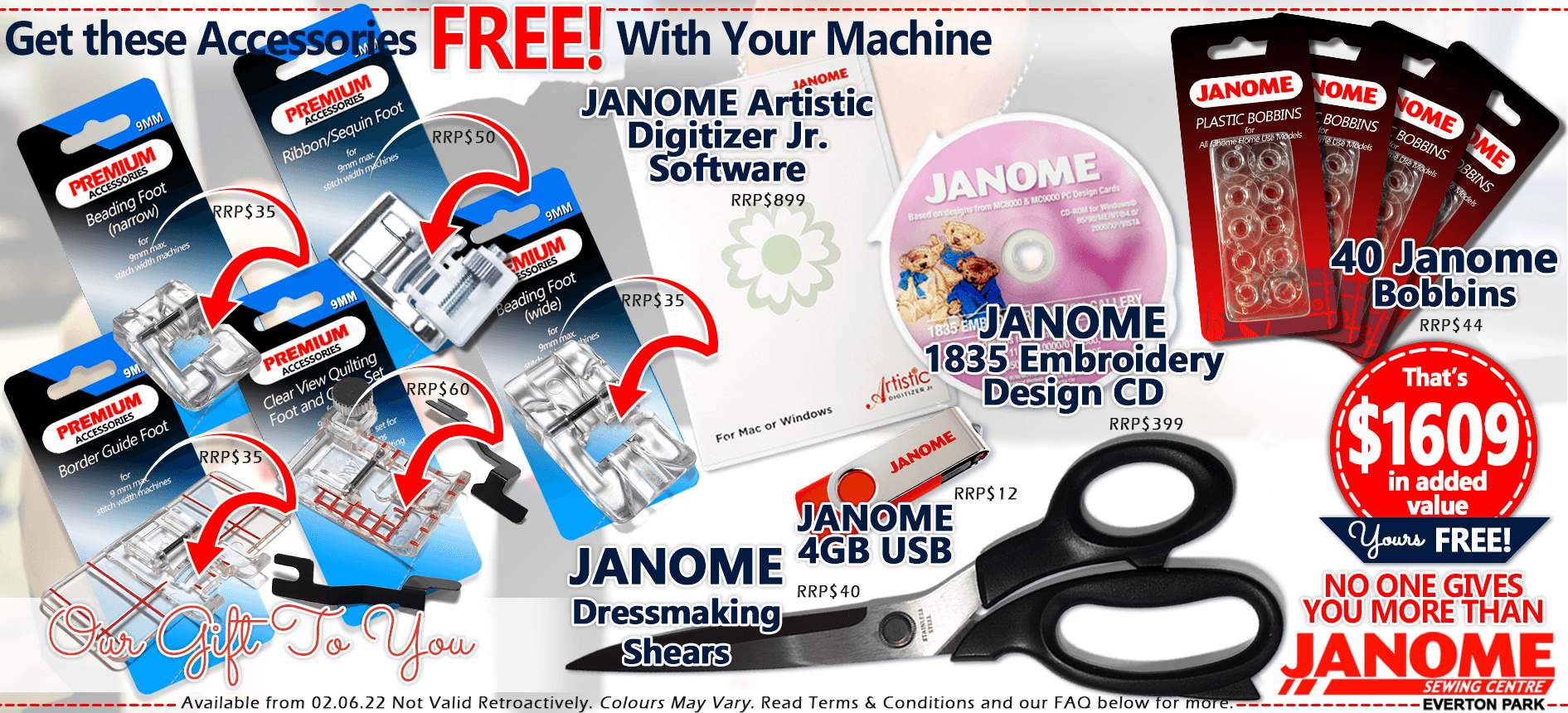 Continental Memory 17 Professional CM17 Advanced Semi Industrial Sewing Machine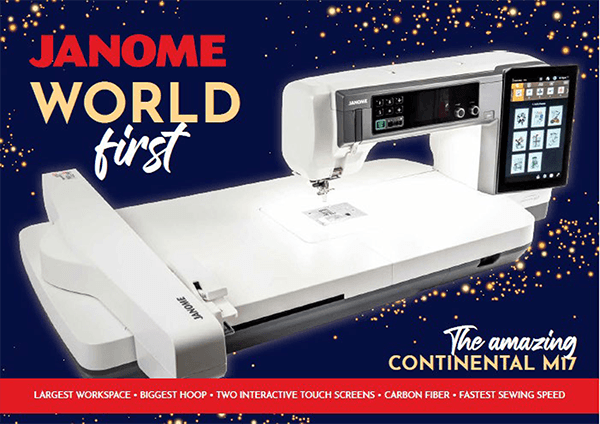 The Janome Next Generation Combo machine is now available. To optimise your creative potential, Janome has combined the best features of their most popular machines. The industry's largest sewing area is matched by the industry's largest embroidery space. Only a handful of the 100 reasons to appreciate this new model include High Definition Quilting and the Fastest Sewing Speeds. Stitch adjustments and embroidery are simple and fun because to the twin LCD colour touch panels. New features like the Thumbwheel function allow you to regulate the needle position delicately to accomplish those intricate stitching projects.
Offering the largest embroidery hoop in the industry at 30″ and over 1,200 built-in embroidery designs, the Janome Continental M17 brings up a whole new universe of design possibilities. Five embroidery hoops were included, which could be used with the built-in programs for everything from monogramming to sashiko and all in between. AcuFeed, QuiltBlockAdvisor, and Artistic Digitizer are all amongst some of Janome's incredible features. Allow the Continental M17 to propel you to the pinnacle of your creative potential.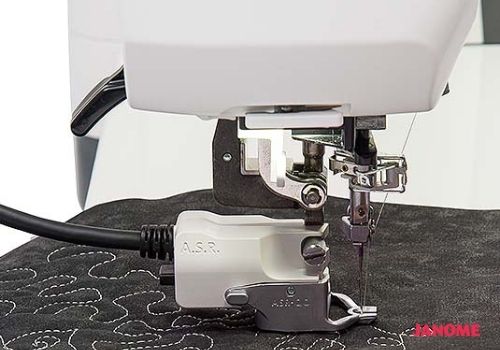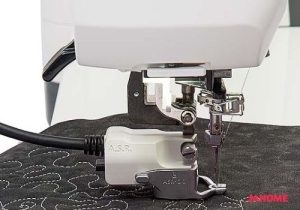 Perfect Stitching has Never Been This Easy!
In addition to the AcuFeed Flex, the CM17 comes with Janome's revolutionary stitch regulation system (AcuStitch Regulator or A.S.R.), which has four feet: closed-toe, open-toe, clear view, and the exclusive Ruler Work foot, to cover all of your free-motion demands. With the extra bonus of being able to alter the sensor's sensitivity, you can fine-tune the Regulation as your skills improve.
850 built-in stitches up to 9mm wide, plus alphabets

Thumb Wheel by machine head to raise and lower the needle

AcuStitch Regulator (A.S.R) Stitch Regulation included AcuStitch Regulator and four different feet (including Ruler Work)

1,230 Built-in embroidery designs

13 One-step buttonholes

Workspace – 13.5" x 5.5" inches to the right of the needle

Top Loading Full Rotary Hook Bobbin

Maximum Sewing Speed – 1,300 SPM Straight Stitch / 1,000 SPM Zigzag Stitch

Embroidery sewing speed: 400 – 1,200 spm

Maximum embroidery size 11.3″ x 18.2″

Superior needle threader

Stitch tapering function

Auto-power off time

Full intensity lighting system with 9 brighter white LED lamps in 4 locations

Automatic presser foot lift

Top loading full rotary hook bobbin system

Sewing applications onscreen support

17.75" All metal seamless flatbed

13.7" to the right of the needle from left needle position

Quilt Block Advisor

Auto tension system

Cloth guide included

Snap-on presser feet

Memorised needle up/down

Automatic one-touch needle plate conversion with 3 included plates with soft close

AcuFeed™ Flex Plus Layered Fabric Feeding System

Direct touch sewing adjustments for AcuFeed Flex Plus

SFS-i

Direct select stitch chart

7-piece feed dog

Embroidery position marker (light)

Hoop Detector (machine recognises if the wrong hoop is attached)

Sewing application support with on-screen help

Variable zig zag for free motion quilting with width adjustment for satin stitch)

Start/stop button

Speed control slider

Locking stitch button
Automatic thread cutter with memory function

Twin needle setting & guard

Easy reverse button

Straight stitch needle plate with left needle position for 1/4" seam foot

Advanced plate markings

Easy set bobbin

Easy bobbin winder

Adjustable knee lift

Optical bobbin monitoring system

Design transfer options: Wireless, USB, Direct PC connection

Gantry Style Embroidery Arm

Embroidery format: .JEF, .JEF+, .JPX

Editing functions: Resize, Rotate, Flip, Zoom, Duplicate, Combine, Sewing Order, Single Color Sewing, Color Grouping, Corner Layout

Auto return post thread break

Embroidery Positioning Marker

Easy Tightening Lever on Embroidery Hoops

Auto-declutch bobbin winder

Independent bobbin winding motor (at 2,000 RPM)

Extra high presser foot lift

Dual Touchscreens

Right Screen – LCD Full-color touchscreen 5.3" x 8.5"

Middle Screen – LCD Touchscreen 3.8" x 2.1"

Maximum stitch width: 9mm

Maximum stitch length: 5mm

Self-opening top cover, pop-up spool pins, built-in retractable thread guide.

Buttonhole foot with stabilizer plate for thick fabric

Streamlined profile for broader sewing field view

Built-in Storage Space in the embroidery unit extension tables, top, and back of the machine

PC Based Programs included – Stitch Composer, QuiltBlockAdvisor, ScreenSaver Tool

NEW FREE Janome Apps compatible with Android, available from App Store & Google Play
Zigzag Foot A

Rolled Hem Foot D

Zipper Foot E

Concealed Zipper Foot Z

Satin Stitch Foot F

Open Toe Satin Stitch Foot F2

Blind Hem Foot G

Quilting Bar L

Overedge Foot M

1/4˝ Seam Foot O

1/4˝ Seam Foot without quilting guide O

Darning Foot PD-H

Closed-toe Darning Foot PD-H

Open-toe Darning Foot PD-H

Free Motion Quilting Closed-toe Foot QC

Free Motion Quilting Open-toe Foot QO

Free Motion Quilting Zigzag Foot QV

Variable Zigzag Foot QZ

Ruler Work Foot QR

Automatic Buttonhole Foot R

Stabilizer Plate for B/hole Ft

Button Sewing Foot T

Button Shank Plate

Accurate Stitch Regulator, plus

ASR Closed Toe Foot ASR-QC

ASR Clear View Foot ASR-QV

ASR Open Toe Foot ASR-QO

ASR Ruler Work Foot ASR-QR

AcuFeed Holder (twin)

AcuFeed Holder (single)

AcuFeed Foot AD (twin)

Acufeed Quilt Piecing Foot OD (twin)

Acufeed Open Toe Foot UD (twin)

Acufeed Ditch Quilting Foot SD

Dual feed foot VD (single)

Dual feed zipper foot ED (single)

AcuFeed Flex Professional Grade Foot HP2

Professional Grade Foot HP

Professional Grade Needle Plate HP

Straight Stitch Needle Plate (3 holes L/M/R)
5 Embroidery Hoops

RE46d (280×460)

SQ28d (280×280)

RE20d (140×200)

SQ10d (100×100)

ASQ27 Quilting Hoop (270×270)

Embroidery foot P

Couching foot PC-1

Couching foot PC-2

Button shank plate

Scissors

Quilting Guide Bar

Screwdriver

Optic magnifiers (x20, x40, x60)

Bobbin holder cleaner

Positioning marker

Janome Plastic Bobbins x 5

Needle Set

Screwdriver

Lint Brush

Seam Ripper

Spool Holder (large) x 2

Spool Holder (small) x 2

Spool Holder (special) x 2

Net x 2

Spool rest x 2

Touch Panel Stylus

Foot Control (large style)

Thread Cutting Switch

Adjustable Knee Lifter

Power Cable

USB Cable

Instruction Book

Instructional Video DVD

Software CD-ROM (stitch composer/screen saver tool/ quilt block advisor) for Windows

Semi-hard Fabric Machine Cover

Extra Wide Table (white with drawer)
We also stock compatible accessories for the CONTINENTAL M17, Which can make particular jobs easier or more precise. Take a look below!
JANOME

Ditch Quilting Foot

With a built in guide, the ditch quilting foot makes it easier to stitch right in the ditch for perfect patchwork. Just open to the right side of the fabric and align with the folded edge.

JANOME

Applique Foot

This clear view short and stubby foot is ideal for sewing applique and patchwork, tight curves and decorative top-stitching.

JANOME

Buttonhole Foot

For extra large manual buttonholes, the B Foot has parallel grooves in the underside to achieve perfectly aligned buttonhole stitches easily.

JANOME

Straight Stitch Foot

For precise straight stitching or sewing slick, delicate fabrics that pucker too much, the straight stitch foot has a single needle hole instead of a wide slot, preventing shifting of fabric as you sew.

JANOME

Border Guide Foot

The Border Guide Foot is similar to the Satin Stitch foot having a center groove for decorative sewing, with large wings and 1/2″ markings for sewing borders accurately.

JANOME

Cording Foot

This 3-Way cording foot feeds decorative cord through a guide for neatly embellishing garments and accessories. Best used with the triple zigzag stitch and other full width stitches.

JANOME

Piping Foot

Create and attach your own piping using the clip-on piping foot. The channels under the foot glide over piping cord sandwiched between fabric and allows for consistent stitching.

JANOME

4MM Rolled Hem Foot

For super fine hems, save time and effort by using this easy foot. The build in fabric guide rolls fabric for you as you stitch, creating neat and consistent hems.

JANOME

6MM Rolled Hem Foot

There's no need to sit for hours pinning lengths of fabric for fine rolled hems. This handy foot has a built in guide that rolls the fabric for you as you stitch, creating consistent, neatly rolled hems.

JANOME

Clear View Quilting Foot & Guide Set

This set is three feet in one, with a clear view foot with 1/8″ markings, and attachable ditch quilting and 1/4″ seam sewing guides.

JANOME

Ribbon/Sequin Sewing Foot

The ribbon and sequin sewing foot has an adjustable guide that feeds strung sequins and fine ribbon through, twist-free!

JANOME

Gathering Foot

The ribbon and sequin sewing foot has an adjustable guide that feeds strung sequins and fine ribbon through, twist-free!

JANOME 

Narrow Pintucking Foot

Pintucking using a twin needle adds dimension to fabric of medium to light weights. The Pintuck foot makes sewing several pintucks in a row a breeze.

JANOME 

Wide Pintucking Foot

Pintucking using a twin needle adds dimension to fabric of medium to light weights. The Pintuck foot makes sewing several pintucks in a row a breeze.

JANOME

Narrow Beading Foot

Sewing beads onto trims seams impossible, but this foot makes it easy! With the built in channel, string beads flow through the foot allowing zigzag stitches to secure them to the fabric, snag-free.

JANOME

Wide Beading Foot

Sewing beads onto trims seams impossible, but this foot makes it easy! With the built in channel, string beads flow through the foot allowing zigzag stitches to secure them to the fabric, snag-free.

JANOME

Ruffler Foot

For consistent and even gathers or pleats, the ruffler foot folds and sews for you, no more basting!

JANOME

Ultra Glide Foot

This Teflon foot is specially designed to be non-stick and allows you to sew tacky fabric like leather and vinyl smoothly and easily without jamming.

JANOME

Binder Foot

For attaching bias binding to garments, this foot sew it all in one stitch by feeding it through and lining it up against your fabric for faster and easier binding.

JANOME

Edge Guide Foot

Avoid wavy uneven sewing along folds seams and edges with the edge guide foot. The adjustable guide lines up against your fabric and allows you to sew perfectly straight stitches.

JANOME

Free Motion Couching Foot Set

For the Textile Artists out there, this foot operates similarly to your darning foot, but is built especially to feed through and sew decorative yarn or cord onto your project.

JANOME

Circular Sewing Attachment

If you've ever tried sewing a circle only to pull your hair out, you'll love this accessory. The Circular Sewing Attachment clips in place of your bobbin cover plate and achieves perfect round borders every time.

JANOME

Ribbon Sewing Guide

An attachable guide system to help feed ribbon through your machine, for easy customization, labels, embellishments and more.

JANOME

Large Buttonhole Foot & Stabilizer Plate

For large bag or coat buttons between 2.5cm and 5cm, this extra large buttonhole foot allows you to use the automatic buttonhole sensor function.

JANOME

Pintucking Cord Guides

Designed for use with a twin needle and Pintuck foot, these guides slot in place of the bobbin cover plate and feed cord or hat elastic to emphasize your pintucks.

JANOME

Sliding Guide Foot

For a built-in fabric guide as you sew along edges wider than your SE foot, the handy markings ensure accurate lines of stitching every time.

JANOME

Taping Guide Foot

For larger Bias Binding or Sewing Tape, this adjustable guided foot feeds tape through the front for consistent sewing.

JANOME

Concealed Zipper Foot

For Invisible Zips, a normal foot just doesn't do our work justice. This concealed zipper foot has grooves specifically for the heart shaped teeth of invisible dress zips – sew them perfectly every time.

JANOME

1/4″ Seam Foot Without Guide

When you need a 1/4″ seam foot but your fabric, batting and interfacing make it too thick to sew using a standard 1/4″ (O) Foot, this guide-less foot is the same size and shape to help your with your quilting.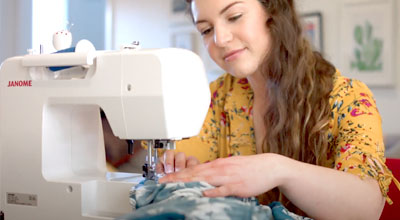 All Janome machines come with a 12 month mechanical and 5-year electronic warranty! Read more on the terms here.
With various payment options available, you can shop in confidence with Janome Sewing Centre. You can even get your machine today and pay later with Afterpay or ZipPay. PLUS with FREE DELIVERY Australia wide on orders over $400*, make the most of this offer!
Already Own It? Let Us Know What You Think And
Leave A Review

Copyright ©Janome Sewing Centre Everton Park All Rights Reserved.
Custom Content & In-house Photography designed by and is the intellectual property of Janome Sewing Centre, Everton Park.