5mm Walking Foot
an even-feed foot quilters
Part Number: 5mm walking foot – 941 610 000
A 5mm walking foot for your sewing machine is essential if you are a quilter. It evenly feeds fabric and batting through a sewing machine to avoid uneven layers. The even feed foot is designed with a set of teeth (feed dogs) that allow the fabric to pass without shifting and stops the problem of the under layer of fabric coming up short.
The even feed foot is also great for top stitching which can be spoilt due to crookedness of the stitching. This unevenness is caused from the bulk created with the seam allowance, especially around collars and reveres. Using the 5mm walking foot for top stitching will eliminate this problem and give a perfect stitch every time. This even feed foot does not come with a quilting guide.
The 5mm walking foot fits the following sewing machines:
Janome: 1008, DC1030, DC2030, FD206, FD216, HD1000, JP660, JP720, JP760, JR1012, SP1221, Sewist 509, Sewist 521, Sewist 709, Sewist 721, Sewist 725S, RE1306, RE1706,
Elna: EL1000, EL2000, Sew Fun, Elina 21, Explore 240
---
Compare our 5mm Walking Foot
| | | |
| --- | --- | --- |
| | Our Walking Foot | (Some) Competitor's Feet |
| High Quality Feeding Springs | | |
| Easy attachment to the machine | | |
| Professional Quality | | |
| Includes Instructions | | |
| Guide Slot | | |
| Guide Included | | |
---
How to use our 5mm Walking foot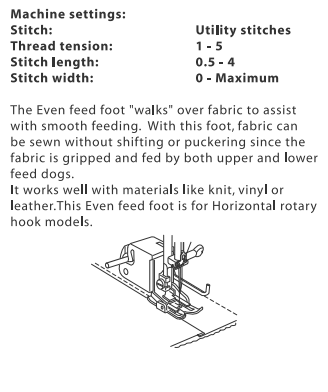 Customers Note: As Janome does not yet provide all feet accessories and attachments with their packaging and instructions, this Foot Accessory is sold on its own without any blister packaging, but is a Genuine Janome Product. 
Custom Content & In-house Photography designed by and is the intellectual Property of Janome Sewing centre.