Janome 5mm Binder Foot
for Janome 5mm Sewing Machines
Part Number: 200 140 009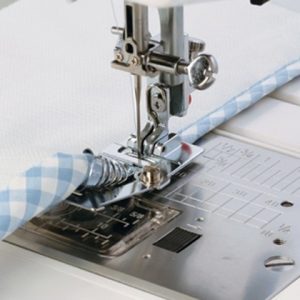 The Janome Binder Foot is used to apply pre-folded bias binding tape or bias tape you have cut yourself to the edge of fabric in one easy step. It is equipped with a small funnel to fold and guide the binding over the fabric edge before it reaches the needle and can be used with either zigzag or decorative stitches as well as straight stitch. 10 mm to 14 mm bias tape can be used.
The Janome 5mm Binder Foot fits the following sewing machine models:
Janome: RE1306, RE706, 1008, JR1012, 1000, HD1000, My Style 16, My Style 18, My Style 20, My Style 22, My Style 24, My Style 28, My Style 32, 652, 653, 655, 509, 521, 525, 625E, SP1221 (Inspiration)
---
How do I use the Janome 5mm Binder Foot?
Sewing Machine settings:
Stitch: Straight stitch (Center needle position)
Thread tension: "Auto" or 3 – 5
Stitch length: 1.5 – 2
Stitch width: 0
Method:
Cut the end of the tape diagonally, and insert it into the binder foot.
Push out the end toward the needle hole of the foot with a needle or a stiletto.
Insert the edge of the cloth into the opening of the guide.
Sew slowly, guiding the edge of the cloth with your middle finger on the finger rest and, while guiding the binding tape through the conical tape guide correctly with your right hand.
Custom Content & In-house Photography designed by and is the intellectual Property of Janome Sewing centre.