Janome 5mm Sliding Buttonhole Foot
Part Number: 200 123 006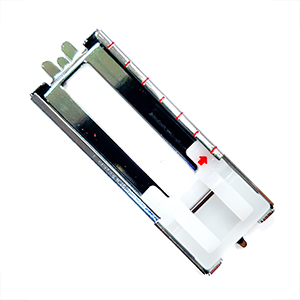 Do you have to sew several buttonholes? Then save yourself time and stress with the Janome Sliding Buttonhole Foot!
With the help of the red guide lines that are on the side of the Janome Sliding Buttonhole Foot, you will be able to precisely measure the size of your buttonhole. Simply (and carefully) place the start and stop marks of the buttonhole's length on fabric; then place the fabric under the foot (with the top marking of the fabric lining up with a guide marking on the foot) and sew away!
The Janome Sliding Buttonhole Foot can be used on all 5mm Janome (and Elna) sewing machines that feature a standard 4-step buttonhole stitch.
The Janome Sliding Buttonhole Foot fits the following sewing machine models:
Janome: RE1306, RE706, 1008, JR1012, 1000, HD1000, My Style 16, My Style 18, My Style 20, My Style 22, My Style 24, My Style 28, My Style 32, 652, 653, 655, 509, 521, 525, 625E, SP1221 (Inspiration)
---
How do I use the Janome 5mm Sliding Buttonhole Foot?
Sewing Machine settings:
Stitch: Buttonhole Stitch
Thread Tension: 1 – 5 (Depending on fabric and desired finish)
Stitch Length: 0.5 – 1
Stitch Width: 5
Custom Content & In-house Photography designed by and is the intellectual Property of Janome Sewing centre.