Elna eXperience 560
Computerised Sewing Machine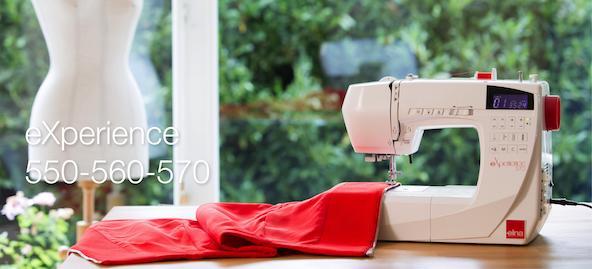 AN INSPIRATIONAL ADDITION TO CREATIVE UNIVERSE
Wearing something homemade is really trendy. Be part of the makers movement and join hand crafted fashion and design enthusiasts.
The eXperience 550-560-570 sewing machines will support you along the way, giving you all the tools you need to achieve your creative ideas in this and many other areas.
Reliable and comprehensive, these all-round machines will also handle an array of different fabrics with ease.
About the Elna eXperience 560
The Elna eXperience 560 sewing machine is user friendly without sacrificing efficiency. It will simplify your sewing tasks, saving you time and trouble. The Elna eXperience 560 features many automated functions, facilitated threading, a jam-proof horizontal drop-in bobbin, guided setting of stitch length or tension control to limit possible mistakes, as well as direct and quick selection of key functions and most frequently used stitches. The Elna eXperience 560 is perfect for the contemporary amateur sewist.
Sewing with Elna
With an eXperience sewing machine, you chose elna's high quality standards and excellent after-sale service. With quality and endurance translating into product durability, your sewing machines' extended lifetime means that you don't need to replace it with a new one in a short time. As a result, this can save If you have taken up home sewing or dressmaking, you will find the ideal machine among the five models in our eXperience range. Budget-friendly but complete, they offer a broad range of functions for a versatile use. In the next pages, we present these models and compare their features to help you find the one that best suits your needs.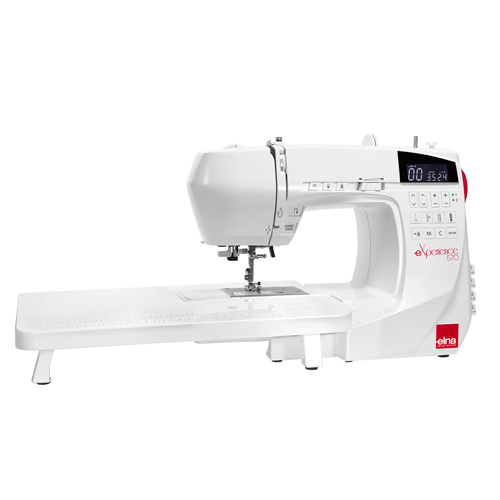 The Elna eXperience 560 Features
Sewing space of: 170 mm
Free arm
Screen type: LCD screen
Horizontal full rotary hook with
transparent bobbin cover
Built-in needle threader
7 pieces rectractable feed dog
Light: 1 built-in white LED
Thread tension control: manual
Easy and guided bobbin threader with built-in thread cutter
Pressure foot adjustment
Extra-high presser foot position: manual
Accessory storage: 1
Extension table
Stitch reference chart: Stored on the right side of the machine
Spool pin: horizontal type
Start/Stop
Reverse
Auto-lock (knot)
Up/down needle position
Automatic thread cutter (only on eXperience 560 and 570)
Direct stitch selection: 4 designs
Thread cut memory key (only on eXperience 560 and 570)
Memory key (only on eXperience 570)
Number of stitches: 50 (550) / 100 (560) / 200 (570)
One step buttonhole: 3 (550) / 7 (560) / 12 (570)
Stitch combinations: 50 (570)
Maximum stitch width (mm) : 7
Maximum stitch length (mm): 5
Variable needle positions: 15
What comes with my machine?
Elna equips every machine with some basic standard accessories so you can start sewing right after you take your machine out of the box! These vary from model to model so here's a list of what comes with the eXperience 560:
Standard foot A
Satin stitch foot F
Overedge foot C
Zipper foot E,
Blind hem foot G
¼" seam foot O
Automatic buttonhole foot R with stabilizer plate
Bobbins
Seam ripper
Spool holder large and small
Additional spool pin
Lint brush
Needle set
Screwdriver
Foot controller
Hard cover
Extension table
These accessories are fitted into the carton by Elna. We recommend all packaging and labelling is kept somewhere safe as it has all the specially designed packing foam to transport your machine safely! Whether it's storage, moving house, bringing it in for servicing or shipping a machine through post – for whichever reason, this box is essential in keeping your sewing machine damage-free!

Our Technicians, Sewing Educators and Sales Personnel are at the ready to assist you with your new machine! Those local to the area are welcome to book a one-on-one lesson in-store or for those requiring assistance abroad, we offer our time and expertise to you via phone and email support. With these lessons and one-on-one consults provided FREE for new customers, always feel that we're nearby with our continued support.
For more info, take a look at our FAQ!
Custom Content & In-house Photography designed by and is the intellectual Property of Janome Sewing centre.