Janome MyExcel 18W
Heavy-Duty Sewing Machine
The Janome MyExcel 18W also known as the HD3000 or Janome MW3018LE is an absolute workhorse. If you're looking for a heavy-duty sewing machine that can handle all of your sewing projects then the Janome MyExcel 18W with its durable all-metal internal frame is for you. In fact, this machine has such a good reputation for reliability and simplicity that schools all across the country us it in their textile classes.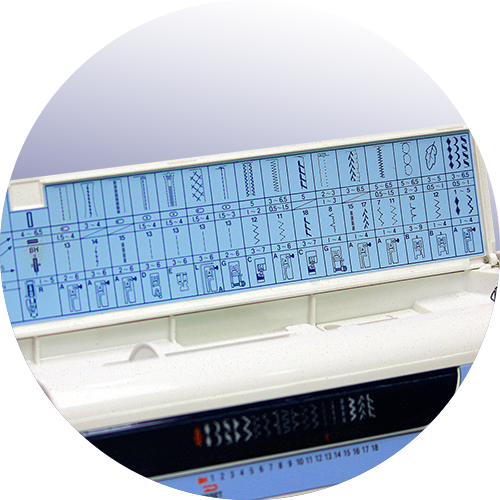 The quick view stitch chart displaying your 18 essential stitches and an automatic buttonhole makes sewing a breeze and the convenient storage compartment means that your accessories are super accessible. Don't let the simplicity fool you though, you would be hard-pressed to outgrow this machine's functions as it's not only capable of basic repair and alteration work but also quilting and home décor. This fact makes the MyExcel 18W an ideal machine for those returning to the wonderful world of sewing, or a beginner sewist who starting their sewing journey.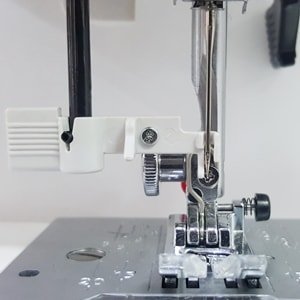 Current owners of the 18W love the needle threader and Janome's jam proof bobbin system and sewing anything from silk all the way to denim, canvas or leather is easier with the foot pressure dial. Just remember, if you need advice, we're only a phone call away to get your hands on the right foot and needles for the job. If you'd like more information you can also send us an email or check out the brochure here.
Add the Janome MyExcel 18W to Your Cart
The Janome MyExcel 18W Features
What Comes With My Machine?
All Janome sewing machines come with some essential standard accessories so you can start sewing right away! These sewing accessories vary from model to model, so we have included a list of what you get with your Janome MyExcel 18W:
These accessories are fitted into the carton by Janome. We recommend you keep all of the packaging somewhere safe as it is specially designed to transport your machine safely! Whether it's for storing your machine, moving house, bringing it in for servicing or shipping it through the post, this box is essential to keep your sewing machine damage-free!
What's So Great About These Accessories? Click to Read More...
We hope this helps you know what you're looking for. You're another step closer to finding your perfect machine!
[wooslider slide_page="ls-7mm-acc" slider_type="slides" limit="100″ thumbnails="default" link_slide="true" display_content="false" imageslide="true" order="DESC" order_by="date"]

Our Technicians, Sewing Educators and Sales Personnel, are always at the ready to assist you! Firstly, If you are local to the area you are more than welcome to book a one-on-one lesson. For everyone else requiring assistance, we offer our time and expertise over the phone and through email support. This support is provided FREE for new customers, so you always feel that we're nearby.
BUT WAIT, THERE'S MORE!
With every purchase of these GREAT machines, Customers will also receive an exclusive FREE BONUS pack of accessories to have you sewing up a storm in no time!
This great offer includes:

Add the Janome MyExcel 18W to Your Cart
BONUS ACCESSORIES EXCLUSIVE TO
JANOME SEWING CENTRE!
No one Gives You More.
Depending on availability, bonus items may be substituted with items of equal or BETTER value. Janomesewingcentre reserves the right to edit, remove or add bonus items at any time without prior notice.
For more info, take a look at our FAQ!
---
All Janome Machines come with a 12 month mechanical and 5 year electronic warranty! Read more on the terms here.

With various payment options available, you can shop in confidence with Janome Sewing Centre. You can even get your machine today and pay later with afterpay or ZipPay. PLUS with FREE DELIVERY Australia wide on orders over $500*, make the most of this offer!

Already Own It? Let Us Know What You Think And

Leave A Review

---

Custom Content & In-house Photography designed by and is the intellectual Property of Janome Sewing centre.