Sew Your Own Quilt
Whether you call it a blanket, bedspread or doona, a quilt is a fantastic project for you and your Janome sewing machine. Usually made from three different fibre layers – cloth top, inner layer and woven back, quilts come with a long, rich history and plenty of uses. Quilts come in a large variety of types and designs, from a broad range of cultures. They differ from other blankets because they are formed by stitching together separate layers of cloth. The pattern of stitching and the techniques used determines a quilt's decorative attributes.
Machine quilting is an effective way to produce a stunning quilt. A Janome sewing machine can be used instead of hand stitching to sew quilt layers together for maximum efficiency, saving you time. All it requires is for the layers to be tacked and pinned collectively before sewing begins. You can also use a sewing machine to topstich a design on the quilt, adding further depth and texture to your project.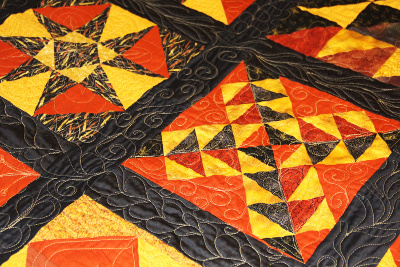 There are no rules or restrictions regarding a size of a quilt.
Some are tiny, for pets or a dolls house while others huge, particularly if the intended use is for say, a king sized bed. Likewise, what fabric they are made out off can also vary, from 100 percent cotton through to the finest silk. Like the pattern and the colours, a quilt's fabric and its texture can make a big difference to the look and feel of the finished product.
One thing they do have in common though is their shape, either being square or rectangular, rarely will you find a circular or hexagonal quilt.
Functions of Quilts
While the main function of a quilt is to be used a blanket or a type of throw rug, over the ages they have been popular cultural items, combining hard work and creativity to produce a decorative outcome that expresses emotion.
There are entire museums dedicated to displaying the ornamental and sentimental values of all the different kinds of quilts from the past, all the way to present day.
The traditionally done by hand, quilting by machine is becoming more popular for those with minimal time. Depending on the size, a quilt can be a long term project and using a sewing machine can assist with time management.
In fact, with the large range and models of Janome sewing machines, quilting has become more efficient than ever. With the ability to do advanced stitching techniques with that are required for certain quilt patterns more easily, it has never been a better time to try your hand at machine quilting, using your Janome sewing machine.
Uses for Your Quilt
Quilts are very versatile items to make, which have a whole range of uses. Many modern quilts are not always intended as a blanket, despite being great items that provide comfort and warmth. Instead, they are used as a wall hanging, tablecloth, or even as framed artwork. They make fabulous gifts and in some places, traditionally given to mark important life events such as marriage or graduation.
In many ways, quilts are the 'jack of all trades' blanket. Their practical uses in bedding, being used as a cloth such as a picnic blanket, or as a winter rug for the couch are only second to their decorative and artistic uses. Quilts have been used to tell stories and document events, with advanced quilters weaving pictures that deliver a narrative. Other times they have been used for commemoration purposes, being created in the memory of an ideal or person.
Finally, the act of machine quilting can give pleasure in itself. Because creating a quilt involves multiple sewing techniques, completing even a portion or block of a quilt can be very self-rewarding. Once a pattern is mastered; it can be quite enjoyable and relaxing reproducing it to fill out the rest the quilt. If you are machine quilting a non-patterned fill quilt, crafting a custom design to completion will give you plenty of satisfaction. Regardless of the quilt type, machine quilting can be a very pleasurable, leisure activity and hobby, which produces a beautiful, practical and useful item as a result.
Techniques Used in Quilting
There are a variety of techniques that can be used when doing quilting, here are just a few.
Appliqué
This is a sewing technique where two layers of fabric (upper and ground) are sewn into each other. The edge of the upper fabric is also tucked beneath the design to ensure it does not unravel and damage.
The process involves the upper fabric edge being folded under as it is sewn down in the ground fabric, using a needle turn method. Stitches are made with a hem stitch, so they are less visible from the front of the design. After sewing is complete, the ground fabric is then cut away from behind, to reduce the bulk of the fabric in that region.
A Janome Applique Foot is the perfect accessory to perform this technique in machine quilting and comes standard with many Janome sewing machines on the market.
Trapunto
This is a method of sewing where two layers of fabric are quilted together by a surrounding layer of batting. Extra fabric and layers are then added to certain areas of the design to increase the profile of relief compared to other sections of work. This effect of heightening a portion of the design is often accomplished by quilting the enclosing region, which compresses the batting layer sections in the quilt, and recedes the background.
Embellishment
Adding extra decorative items to the surface of the quilt to give it a unique appearance is the process of embellishment. Common items include buttons and beads, but the ways a quilt can be decorated this way is only limited by your imagination.
English Paper Piecing
Typically known as a hand sewing technique that pieces complex angels together, machine English paper piecing is a technique that can be done on machines. Using a sewing machine allows hexagon or octagon patches and similar shapes to be constructed in a fraction of the time that it would take by hand.
Foundation Piecing
This technique assists in minimising the distorting effect when working on slender pieces or bias cut pieces, allowing for increased stability. Today, paper is usually used as the foundation for quilt blocks, which is removed after the block is completed.
Creating a Quilt with Your Janome Sewing Machine
Janome sewing machines can assist with many of this stitching techniques. Below we have included some quilt block fill patterns that you can download for free and uses in your next quilt project. Choose the colour combinations that will suit the look and feel you want to achieve and get your Janome sewing machine ready to go!
For beginners, a great guide to quilt block basics using sewing machines can be found here! The motifs we have on this page are designed for fill patterns, and if you are looking for more choices, plenty of free patterns can be located here.
If you have any questions, feel free to talk with our fabulous team for more ideas on how Janome sewing machines can be best put to use for your next quilting project.
Motif and Fill Patterns
 Here are a few motif and fill patterns you can use in
your quilting projects.