JANOME DC2050
100th Anniversary Limited Edition
---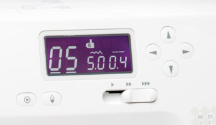 The Janome DC2050 is an incredible deal on a computerized sewing machine. This versatile sewing machine is suited for both those new to sewing and professionals. It also comes well equipped with a needle threader, easy to use function keys and a nifty screen to display your stitch, its length and width.
The DC2050 has 50 stitches including 3 automatic buttonholes and can be used for so many applications. Furthermore, as it's a computerized sewing machine, the DC2050 will automatically set your stitch length and width for you! This is really handy for when you're just doing a quick alteration or mending job. The stitches are arranged from your essentials like straight stitch and zigzag through to your decorative and applique stitches for more creative projects.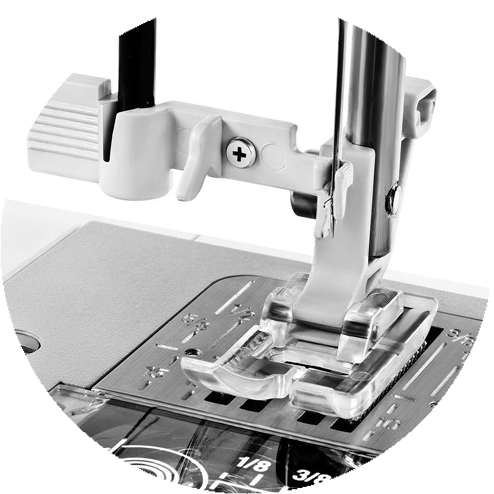 While the ankle, as well as the bobbin winder, are made of plastic to make it lighter and more portable the machine is still robust enough to take on thicker fabrics like your jeans. The DC2050 also does not come with a hardcover however if these are features you are after then the newer DC2150 might be your cup of tea.
But, for under $500 – it's really difficult to walk away from this deal and the machine is still jam-packed with features to get you sewing up a storm! If you have any questions regarding this machine or any others, you're more than welcome to get in touch and we'll do our best to assist you or you can find out more here.
The Janome DC2050 Features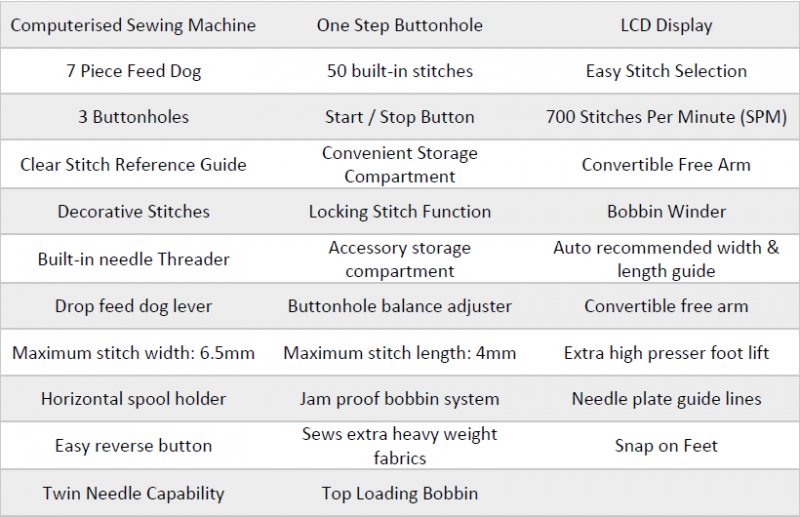 What comes with my Janome DC2050?
All Janome sewing machines come with some essential standard accessories so you can start sewing right away! These sewing accessories vary from model to model, so we have included a list of what you get with your Janome DC2150: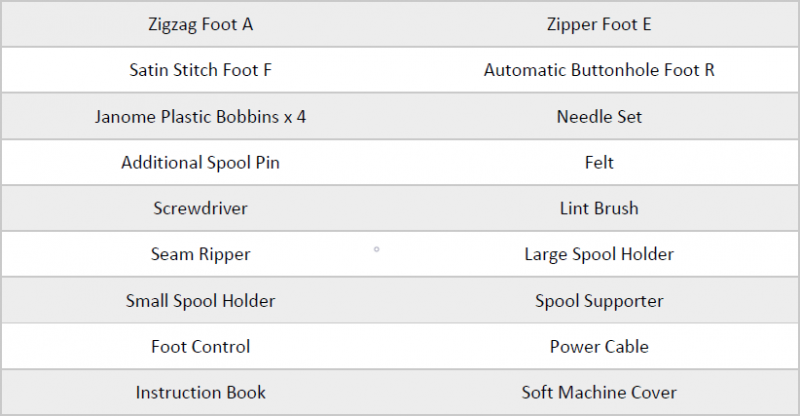 These accessories are fitted into the carton by Janome. We recommend you keep all of the packaging somewhere safe as it is specially designed to transport your machine safely! Whether it's for storing your machine, moving house, bringing it in for servicing or shipping it through the post, this box is essential to keep your sewing machine damage-free!
What's So Great About These Accessories? Click Here To Read More...

Our Technicians, Sewing Educators and Sales Personnel are at the ready to assist you with your new machine! Those local to the area are welcome to book a one-on-one lesson in-store or for those requiring assistance abroad, we offer our time and expertise to you via phone and email support. With these lessons and one-on-one consults provided FREE for new customers, always feel that we're nearby with our continued support.
For more info, take a look at our FAQ!
---
All Janome Machines come with a 12 month mechanical and 5 year electronic warranty! Read more on the terms here.

With various payment options available, you can shop in confidence with Janome Sewing Centre. You can even get your machine today and pay later with afterpay or ZipPay. PLUS with FREE DELIVERY Australia wide on orders over $400*, make the most of this offer!

Already Own It? Let Us Know What You Think And

Leave A Review
---
Custom Content & In-house Photography designed by and is the intellectual Property of Janome Sewing Centre.