SKYLINE S9
Sewing, Quilting & Embroidery
---
With Sachiko, Couching, and more!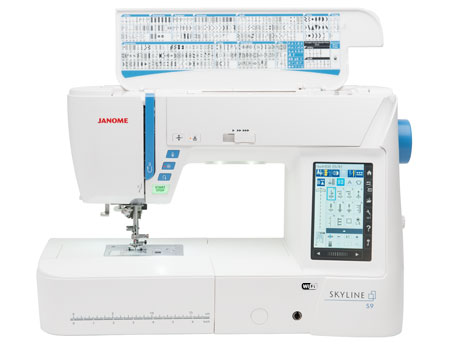 The Skyline S9 is the first machine in its series to include both sewing and embroidery. This great machine includes Wi-Fi capability that makes it easy to send embroidery designs from an iPad or computer straight to the machine. In addition, the Skyline S9 includes three iPad apps: AcuEdit, AcuMonitor and AcuSetter to make your sewing and embroidery time more efficient.
Enjoy choosing up to 250 embroidery designs, including 40 exclusive designs by Anna Maria Horner along with 300 stitches. With a maximum embroidery size of 6.7″ x 7.9″ and sewing speeds of 1000 SPM, the Skyline S9 provides a full suite of powerful capabilities to ensure all projects are beautiful, yet easily executed. Navigating through these great features is easy with the Skyline S9's LCD color touchscreen.
The Skyline S9's Features

Machine Size – W475xH316xD223mm

Machine Size with Embroidery Unit attached – W475xH316xD336mm

Work Space – 8¼" or 210mm to right of needle

Free Arm – 8′" or 200cm

250 built-in embroidery designs including 40 exclusive designs by Anna Maria Horner

20 fonts for monogramming

Maximum embroidery size: 6.7″ x 7.9″

Free arm embroidery

Design transfer via Wi-Fi, USB and direct PC connection

Sewing speed up to 1,000 SPM

On-screen editing functions include enlarge/reduce, rotate, turnover, drag and drop, re-edit, zoom, arc, combine

Programmable jump thread trimming

Adjustable speed while embroidering

Flexible stitch travelling by 1, 10, 100 and 500 stitches

Auto return post thread break

Adjustable hoop position even after starting embroidery

Cutwork enabled

Embroidery couching function

Embroidery Formats: .jef, .jef+, .dst

Thread brand selection: Janome (Polyester and Acrylic), Gutermann, Sulky, Madeira, Robison-Anton, Mettler, Jenny Haskins

Standard Hoops: RE20a (6.7″ x 7.9″), SQ14a (5.5″ x 5.5″), FA10a (3.9″ x 1.6″)

AcuGuide automatic cloth guide

Drop feed

Start/stop button

Embroidery Auto Return Post Thread Break

91 Needle Positions

On-Screen Editing Functions

Top loading full rotary hook bobbin

300 built-in stitches including 3 alphabet fonts

11 one-step buttonholes

Automatic thread tension control

Superior needle threader

Snap-on presser feet

Automatic presser foot lift

Memorized needle up/down

AcuFeed™ Flex Layered Fabric Feeding System

Stitch tapering function

Variable zig zag

Locking stitch button

Automatic thread cutter

Twin needle guard

Easy reverse button

Memory function

Last stitch recall capability

Adjustable Knee lift

Auto declutch bobbin winder

Extra high presser foot lift

LCD touchscreen

Automatic foot pressure adjustment

Maximum stitch width: 9mm

Maximum stitch length: 5mm

Instruction Manual

What comes with my machine?

Janome equips every machine with some basic standard accessories so you can start sewing right after you take your machine out of the box! These vary from model to model so here's a list of what comes with the Skyline S9:

Zig Zag Foot "A"

Rolled Hem Foot "D"

Zipper Foot "E"

Satin Stitch Foot "F"

Open Toe Satin Stitch Foot "F2"

Blind Hemming Foot "G"

Overedge Foot "M"

1/4″ Seam Foot "O"

Embroidery Foot "P"

Couching Foot Set "PC-1 & PC-2"

Darning Foot "PD-H"

Automatic Buttonhole Foot "R"

Free Motion Quilting Closed Toe Foot "QC"

Button Sewing Foot "T"

Free Motion Quilting Open Toe Foot "QO"

Dual Feed Holder and Foot AD(Twin)

Free Motion Quilting Zig Zag Toe Foot "QV"

Dual Feed Holder (Single)

Acufeed Open Toe Foot UD (Twin)

Dual Feed Quilt Piercing Foot OD (Twin)

Instruction Manual

Dual Feed Zipper Foot ED (Single)

Instructional DVD

Dual Feed Foot VD (Single)

These accessories are fitted into the carton by Janome. We recommend all packaging and labelling is kept somewhere safe as it has all the specially designed packing foam to transport your machine safely! Whether it's storage, moving house, bringing it in for servicing or shipping a machine through post – for whichever reason, this box is essential in keeping your sewing machine damage-free!
What's So Great About These Accessories?

Our Technicians, Sewing Educators and Sales Personnel are at the ready to assist you with your new machine! Those local to the area are welcome to book a one-on-one lesson in-store or for those requiring assistance abroad, we offer our time and expertise to you via phone and email support. With these lessons and one-on-one consults provided FREE for new customers, always feel that we're nearby with our continued support.
For more info, take a look at our FAQ!
---
All Janome Machines come with a 12 month mechanical and 5 year electronic warranty! Read more on the terms here.

With various payment options available, you can shop in confidence with Janome Sewing Centre. You can even get your machine today and pay later with afterpay or ZipPay. PLUS with FREE DELIVERY Australia wide on orders over $400*, make the most of this offer!

Already Own It? Let Us Know What You Think And

Leave A Review
---
Custom Content & In-house Photography designed by and is the intellectual Property of Janome Sewing Centre.