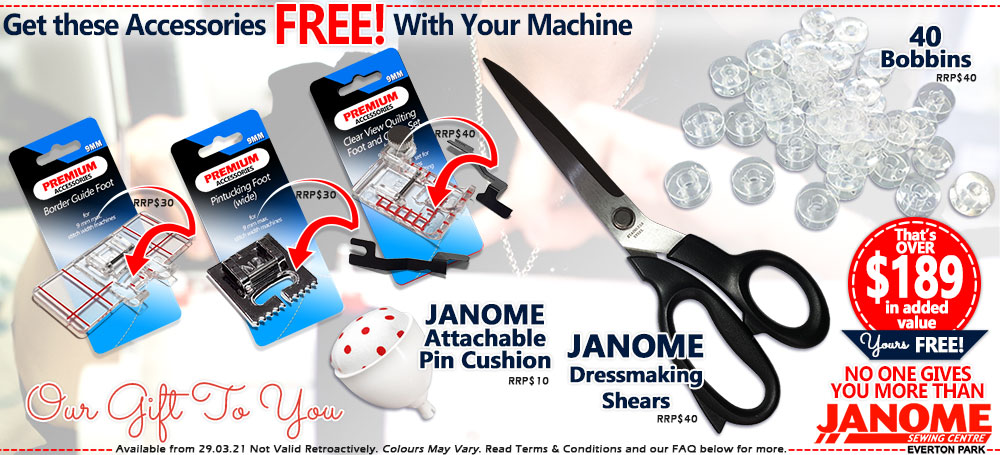 Memory Craft 9450
Quilter's Companion Professional
MC9450QCP
---
Sophisticated Sewing – Ruler Work Upgrade Applied

The newest upgraded quilting model to join our range, the MC9450QCP is every bit as great as the MC9400QCP PLUS this machine is packed with new features like a  NEW AcuFeed Flex Foot (HP2), Stitch Tapering, LED Lighting Upgrade, Auto Power Off timer and many more!
Designed as the new Top-of-the-Line Quilting Only Machine, the Janome Memory Craft 9450QCP offers a generous work space (279mm of work space right of the needle and 114mm of work space to the left), the Janome 9450QCP provides you with the room to complete any project that you put under your presser foot! 
The time spent behind your sewing machine is some of the most precious, so you deserve a machine that lets you get the most out of it. Created with special, easy and time-saving features, the Horizon Memory Craft 9450 is unlocking limitless possibilities for quilters to escape into a world of pure creativity. Quilters have a full 11″ of bed space to the right of the needle to store extra fabric from a quilt. In addition, quilters can enjoy exceptionally smooth quilt piecing with the included AcuFeed™ Flex Layered Fabric Feeding System; achieve faster performance with a sewing speed of 1,060 SPM and view their work, shadow-free, with the machine's retractable High Light™. Navigation through all of these features has become easier with the MC9450's new LCD color touchscreen.
The MC9450QCP's Features

Work Space 280mm or 11 inches

Up to 1060 stitches per minute

Pivot Function

Easy Change Needle Plate

Bright backlit LCD colour touch screen

350 Built-in Stitches

9mm Stitch Width

11 Buttonholes

91 Needle Positions

Presser Foot Lift Button

Foot Pressure Adjustability

Superior Auto Needle Threader

AcuFeed Flex (removable dual feed system – twin 

type & single type)

9 white ultra-bright LED in 4 Locations inc High 

Light™

1 USB port

21 Standard Sewing Feet

Built-in Memory 3MB

Machine Size W528 x H321 x D243mm

Weight 13.2Kg

Free Arm Length 150mm (5.9″) to the right of the 

needle

Embossed Measures on Flat Bed

Quick Reference Stitch Chart

Stitch Length up to 5mm

Speed Control Slide

Stitch Elongation 5x

Favourite Stitch

Mirror Image Stitches

Startover Function

Bobbin Winder

Personalise Menu

9 fonts (Block, Script, Broadway, 9mm Capital

letters/numbers, Cyrillic, Hiragana & Katakana)

AcuFeed Balance Dial

Drop Feed

Superior 7 piece feed dog; no more fabric slipping, 

puckering and shifting

Has Patented Needle plate with markings for 

precision sewing with needle drop position.

Automatic & Programmable Thread Cutter

Stop/Start Button

Needle Up/Down Function

Auto Lock-off Stitch button

Safety Lock Button

Reverse Button

AcuGuide Cloth Guide

Adjustable Knee Lifter

Variable Zig Zag

Upper Thread Sensor

Bobbin Thread Sensor

Stitch Composer Software (Windows only)

Large accessory box gives you front, rear & under 

the free arm storage

Carry Handle

Janome Accessory Carrying Case

What comes with my machine?

Janome equips every machine with some basic standard accessories so you can start sewing right after you take your machine out of the box! These vary from model to model so here's a list of what comes with the MC9450QCP:

Zigzag Foot A

Rolled Hem Foot D

Zipper Foot E

Satin Stitch Foot F

Open-toe Satin Stitch Foot F2

Blind Hem Foot G

Quilting Bar L

Over Edge Foot M

1/4 Inch Seam Foot O

1/4 Inch Seam Foot O without Guide

Open-toe Darning Foot PD-H

Closed-toe Darning Foot PD-H

Automatic Buttonhole Foot R with fine adjustment

Buttonhole Stabilizer Plate

Button Sewing Foot T

Dual Feed Foot AD (twin)

AcuFeed Flex Professional Grade Foot HP2

Free Motion Quilting Closed-toe Foot QC

Free Motion Quilting Open-toe Foot QO

Free Motion Quilting Zigzag Foot QV

Variable Zigzag Foot QZ

Ruler Work Foot QR

Professional Grade Straight Stitch Foot HP

Straight Stitch Needle Plate inc bobbin cover (3

holes L/M/R)

Professional Grade Needle Plate inc bobbin cover

Cloth Guide

Button Shank Plate

Adjustable Knee Lifter

Screwdriver (large)

Large Spool Holder x 2

Small Spool Holder x 2

Special Spool Holder x 2

Seam Ripper

Extra Spool Pin

Lint Brush (small)

Touch Panel Stylus

Set of Janome Needles

5 x Janome Plastic Bobbins

Extra Wide Table with new style removable legs

Power Cord

Electronic Foot Control (large style)

Thread Cutting Switch including base plate

Semi-hard Fabric Machine Cover

Accessory Case

Instructional DVD

Instruction Book

Stitch Composer Software (Windows only)

These accessories are fitted into the carton by Janome. We recommend all packaging and labeling is kept somewhere safe as it has all the specially designed packing foam to transport your machine safely! Whether it's storage, moving house, bringing it in for servicing or shipping a machine through post – for whichever reason, this box is essential in keeping your sewing machine damage-free!

Our Technicians, Sewing Educators and Sales Personnel are at the ready to assist you with your new machine! Those local to the area are welcome to book a one-on-one lesson in-store or for those requiring assistance abroad, we offer our time and expertise to you via phone and email support. With these lessons and one-on-one consults provided FREE for new customers, always feel that we're nearby with our continued support.
For more info, take a look at our FAQ!
---
All Janome Machines come with a 12 month mechanical and 5 year electronic warranty! Read more on the terms here.

With various payment options available, you can shop in confidence with Janome Sewing Centre. You can even get your machine today and pay later with afterpay or ZipPay. PLUS with FREE DELIVERY Australia wide on orders over $400*, make the most of this offer!

Already Own It? Let Us Know What You Think And

Leave A Review
---
Custom Content & In-house Photography designed by and is the intellectual Property of Janome Sewing Centre.