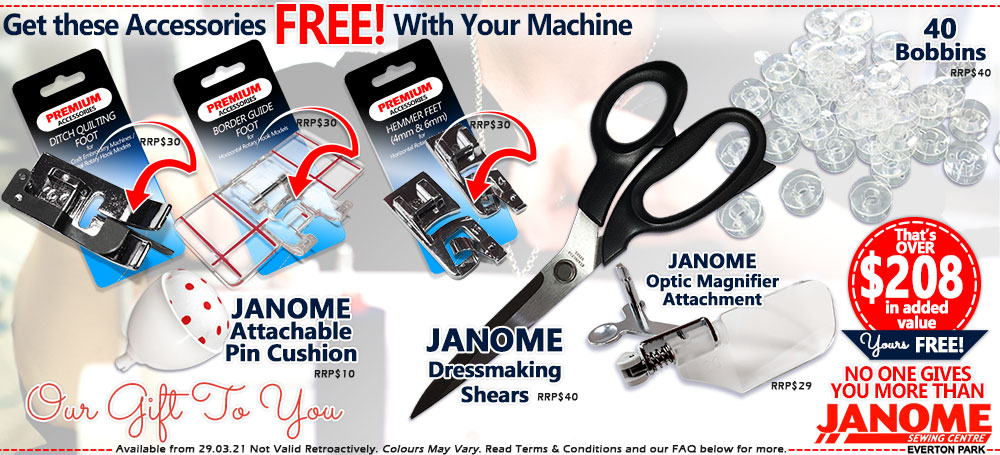 Janome DC6050
Computerised Sewing Machine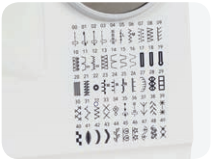 The Janome DC6050 is one of the easiest machines on the market to use. Typically $899, it is an incredible deal at the moment for under $800. First of all, the Janome DC6050 has an intuitive LCD screen with direct stitch selection. This means you can easily pick the stitches you want without scrolling through a long list. That being said, all 50 stitches are conveniently displayed on the front of the machine. So, when you want to use a blanket stitch for your quilts or do some applique, you can see what the stitch looks like beforehand.
The LCD screen will also tell you which foot you need to use with a stitch and the machine will automatically set your stitch length, width and tension. But don't worry, if you know better, you can easily change these defaults to give your project the look you want to create. Finally, when you finish a section, there is an automatic thread cutter so the machine will lock off and cut your thread in the bobbin area at the push of a button.
The DC6050 can sew anything!
The Janome DC6050 has 6 levels of foot pressure so you can increase it for sheer fabrics like silk and chiffon or decrease it for canvas and denim, giving you the best-looking stitches every time. The foot pressure, as well as the extra high lift, are also fantastic for when you're doing a bit of quilting.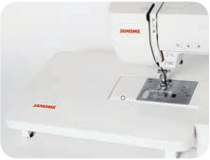 Now you can get that bulky quilt with batting under the presser foot and adjust the pressure, so it's just right. Need a bit of extra room? For a limited time, the DC6050 comes with an extension table. Furthermore, just remove the table and your accessory box to reveal the free arm for sleeves or to take up your jeans.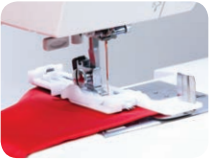 Last but not least is the automatic buttonhole feature. This machine features 3 beautiful buttonholes that you can do in one step. No more spending valuable time to measure it out, stitch up one side and then reverse down to finish it off. Just put your R foot on, insert your button into the slot and push the 'go' button, the machine will do it all of you.
Add the Janome DC6050 to Your Cart

The DC6050's Features

What comes with my Janome DC6050?
All Janome sewing machines come with some essential standard accessories so you can start sewing right away! These sewing accessories vary from model to model, so we have included a list of what you get with your Janome DC
These accessories are fitted into the carton by Janome. We recommend you keep all of the packaging somewhere safe as it is specially designed to transport your machine safely! Whether it's for storing your machine, moving house, bringing it in for servicing or shipping it through the post, this box is essential to keep your sewing machine damage-free!
For more information, you're more than welcome to get in touch with us or check out the brochure here. If you're looking for a machine that ticks all the boxes at an affordable price, the Janome DC6050 is for you. Coming with a fantastic free gift as well as unlimited phone and email support from us, what more could you need to continue your sewing journey.
What's So Great About These Accessories?
We hope this helps you know what you're looking for. You're another step closer to finding your perfect machine!
Searching for a compatible accessory? Take a look at these, all suitable for the Janome DC6050.

Our Technicians, Sewing Educators and Sales Personnel, are always at the ready to assist you! Firstly, If you are local to the area you are more than welcome to book a one-on-one lesson. For everyone else requiring assistance, we offer our time and expertise over the phone and through email support. This support is provided FREE for new customers, so you always feel that we're nearby.
For more info, take a look at our FAQ!
---
All Janome Machines come with a 12 month mechanical and 5 year electronic warranty! Read more on the terms here.

With various payment options available, you can shop in confidence with Janome Sewing Centre. You can even get your machine today and pay later with afterpay or ZipPay. PLUS with FREE DELIVERY Australia wide on orders over $400*, make the most of this offer!

Already Own It? Let Us Know What You Think And

Leave A Review

---

Custom Content & In-house Photography designed by and is the intellectual property of Janome Sewing Centre, Everton Park.